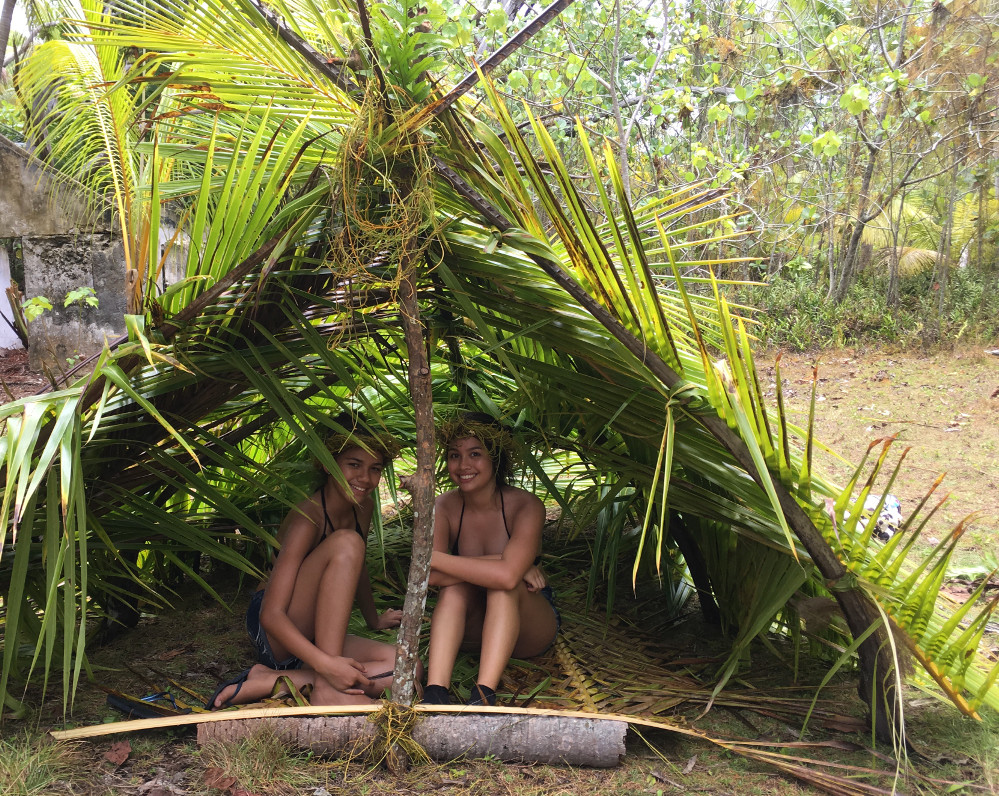 In this activity, students will construct a karuru: a traditional, temporary shelter used by the tupuna of the atolls.
The karuru are built entirely of natural materials found on the motu.
This activity was inspired by: "Material Culture in the Tuamotu Archipelago 1975" , with many thanks to Kenneth P. Emory, the author. In many of the descriptions of the original items, his prose, so evocative of the era in which it was written, has been copied and quoted.
Activity
Build a shelter
On the beach, students collect materials which have been previously gathered, then prepared and strewn about on the beach. (Students will not be using knives, so all cutting and prep work needs to be done beforehand.) Students should work in groups of 2 or 3 - small enough so that they can all fit into the house they build. After the shelters are built, the class can take a tour around the 'neighborhood' to see all of the different types of shelters. Some students may want to try out their own ideas.
Some students may prefer to work on a scale model instead of constructing a life-sized shelter. These models could be used in a long-term project of constructing a scale-model depiction of historical Tetiaroa.
---
"Simple, quickly constructed, temporary shelters were used throughout the year. These shelters broke the force of a strong wind and gave cool shadow from a burning sun."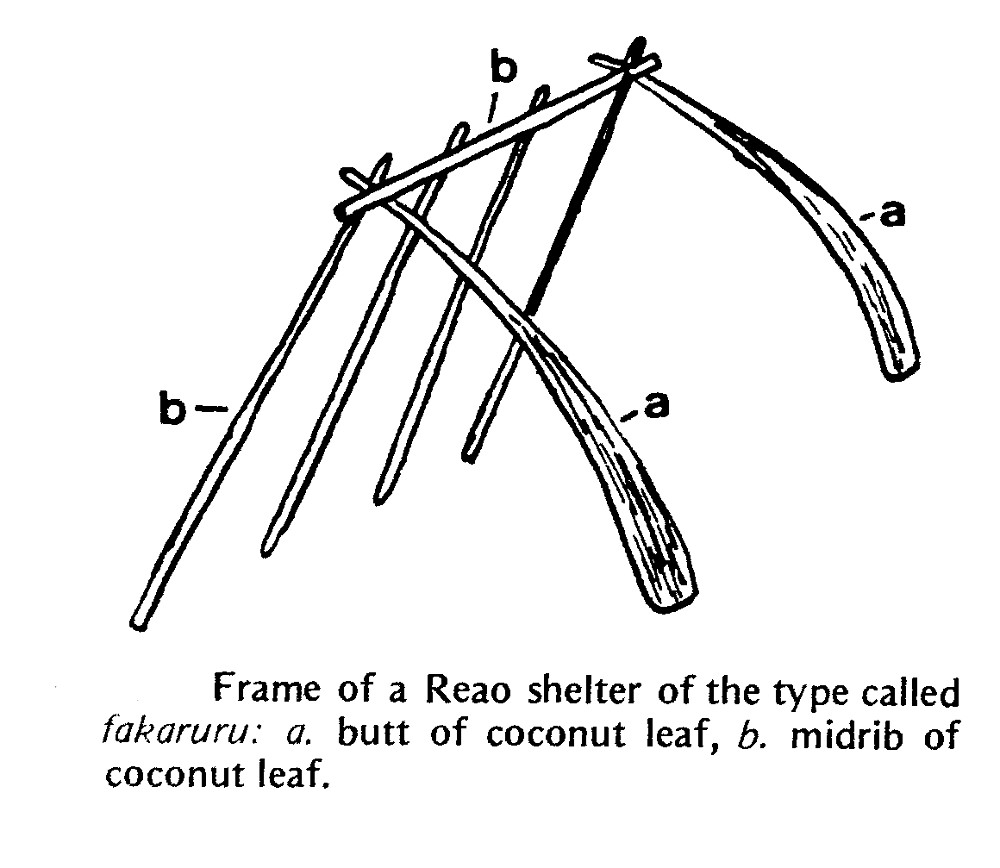 "The fakaruru of Reao required four coconut leaf stalks for rafters, a coconut-leaf midrib for ridgepole, and half a dozen coconut-leaf sheets for roofing on one side and part way down the other. The whole was tied together with the fibrous material found at the base of coconut leaves. This shelter could be picked up and turned at will to afford maximum protection from sun and shifting winds, and could be carried from one working site to another. This type of shelter was called karuru-unuunu at Anaa."
---
"The more unusual portable shelter, while having this same shape, was thatched entirely on both sides, was more carefully built, and was securely lashed to a carrying frame. It measured no more than 2 meters long and 1 meter high and wide. At Vahitahi the names kamaru-tata and poronganga were given for a portable house."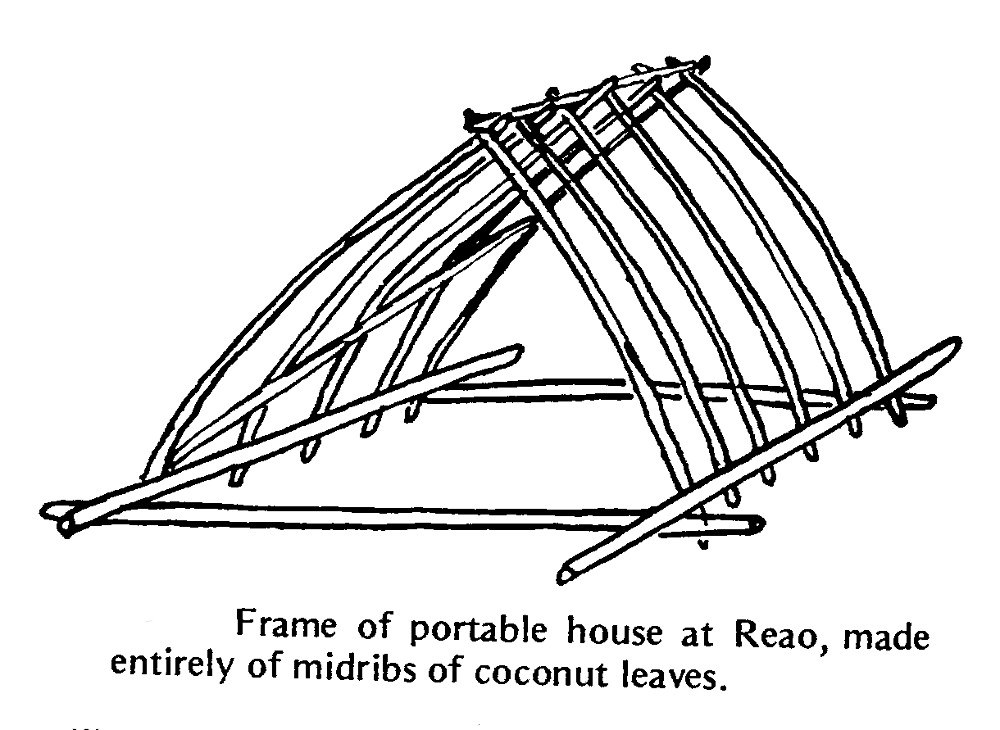 ---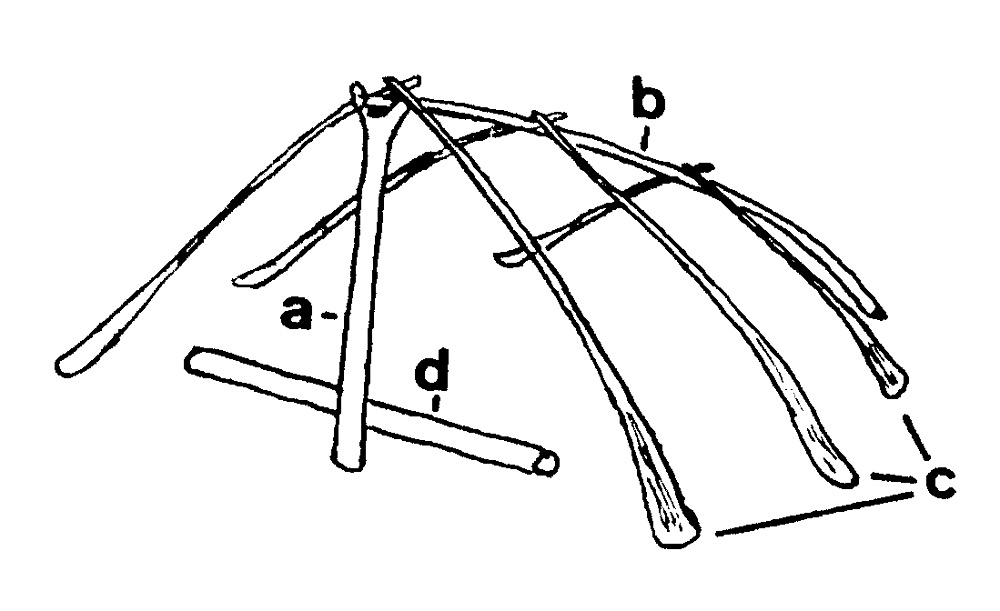 "Yet another simple form of shelter - known as puao at Takakoto and in the Vahitahi group. The ridgepole was a pandanus trunk 15 cm in diameter, one end of which rested on the ground, the other end on the fork of another pandanus trunk 1.3 meter high planted firmly in the ground 2 meters away. Three coconut-leaf midribs placed along each side, with their butts on the ground served as rafters. Three prepared coconut-leaf sheets, tied on with coconut leaves, covered each side. Laid over the top and hanging down on each side as an additional covering were strips of the bark-like material found around the base of coconut leaves. Also called pora at Anaa and kahengahenga tuatua at Faite."
Motu locations for this activity: