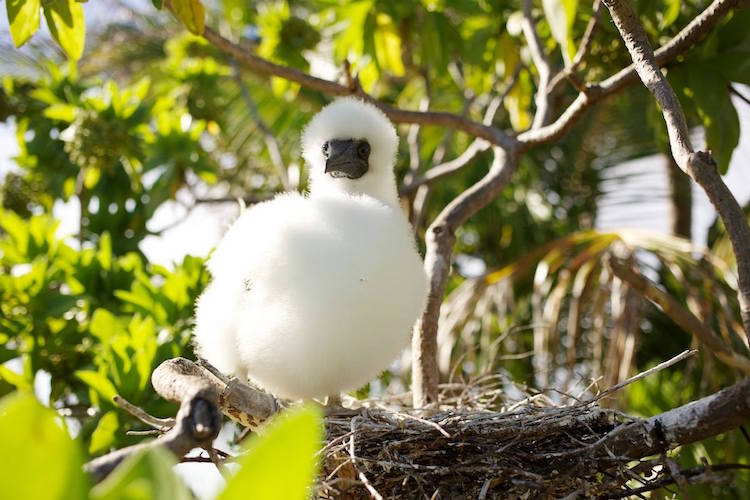 Focus on one organism in an ecosystem, and learn how its attributes determine is adaptability for the environment.  Observe, then see the organism as its prey and predators see it.  Catalog, compare, and contrast attributes, and understand how each organism finds its place in the classification system.
This activity can be a follow-up to the ecosystem visits.  During the visits to the various ecosystems of Tetiaroa, students should be on the lookout for one specie - on the land, in the air, or in the lagoon.  
Activity
Biodiversity study
Students work alone or in pairs, observing their specie, comparing it to others, making drawings, researching. Before data is collected, students must decide how best to observe and gather data (in nature, in an aquarium or terrarium, etc.)  
Touch-tanks and aquariums can be set up near the education center so that students can have access during free time and at different times throughout the day and night.
Uses of plants, legends surrounding animals, recipes...
Students will present their specie - in a skit, traditional chant, video, etc.
Materials
Info cards and books on Tetiaroa's biodiversity
Aquariums, terrariums, touch tanks with live specimens prepared ahead of time for younger students)
microscopes, magnifying glasses,
rulers, calipers
phone cameras
sketch books
Goals
Students will choose an organism to observe, both in its habitat and in an aquarium/touch tank/garden/terrarium, and learn its attributes, its place in the food web, and its adaptive behaviors/features... Students will learn measuring and observation techniques.
Objectives 
Through the information gathered in a detailed journal of observations, students will be able to present their chosen organism to the class. From knowing where their organism is situated in the classification of life, students will be able to infer generalizations about a family of similar organisms. Students will be able to measure specimens accurately using rulers and calipers.